Long time ago in my previous country, I like to watch Doraemon, Japanese anime, about this alien cat, Doraemon love to eat Dorayaki.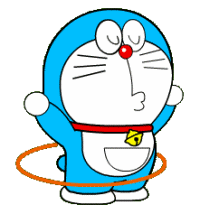 I have chance to try this nice recipe today.
Even the color a little bit brown, but the taste so nice, I have to put in low medium temperature next time to achieve good color like the lady in the youtube made. For me the pancake is too sweet, because the red beans and whip cream already sweet, so next time has to decreased the sugar.
Ingredients for Dorayaki
(6 pieces)
2 Eggs
80g Johakuto White Sugar or Raw Sugar (2.82 oz)
1 tbsp Honey
1/2 tsp Baking Soda
50ml Water (1.69 fl. oz)
130g Cake Flour (4.59 oz)
1~3 tsp Water to adjust the thickness of the batter
100g Premade Anko (Red Bean Paste) for whipped cream anko (0.220 lb)
150g Premade Anko for regular Dorayaki (0.331lb)
** Please watch our "How to Make Zenzai & Anko" video. http://www.youtube.com/watch?v=6Iy-0ncwzlA
50ml Whipping Cream chilled in a fridge (1.69 fl. oz)
1/2 tbsp Sugar
** When baking pancakes, set the griddle at about 340 degrees °F (170°C). Higher temperature would cause pancakes to burn easily and lower temperature would make them hard and dry.