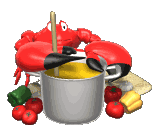 The source recipe from
here
Italian Polenta Cookies
By Martha Stewart from Martha Stewart's Cookies book
Ingredients :
1 3/4 cups all purpose flour
1 cup Italian polenta or coarse yellow cornmeal
1/2 teaspoon salt
1 cup (2 sticks) unsalted butter, room temperature
2/3 cup sugar
1 tablespoon finely grated lemon zest
1 large egg
1 large egg yolk
1 teaspoon pure vanilla extract
Preheat oven to 350 F. Whisk together four, polenta and salt in a bowl.
Put butter, sugar and lemon zest in the bowl of electric mixer fitted with paddle attachment, beat on medium-high speed until pale and fluffy, about 2 minutes, scraping down the sides of the bowl as needed. Add egg and egg yolk, one at a time, beating after each addition to combine. Mix in vanilla. Gradually add flour mixture, and beat until just combined. Transfer better to a pastry bag fitted with a 7/16-inch star tip (such as Ateco #825)--->

Aku pake spuit 1 M wilton.

Pipe S shape about 3 inches long and 1 inch wide, spacing 1 1/2 inches apart on baking sheets lined with parchment. Chill in freezer until dough is firm, about 30 minutes. Bake cookies until edges are golden, 15 to 18 minutes, rotating sheets halfway through. Transfer cookies on parchment to wire racks to cool completely. Cookies can be stored in an airtight container at room temperature up to 1 week.